Collision at SFC
We build teams of students who share the hope of Jesus to transform lives.
Learn more about Collision HERE.
Collision SFC Access Points
What is an access point?
These times and opportunities are ways that Collision staff and any SFC student, staff, or family members UNITE in obeying the Great Commission!
Join us for Lunch at SFC
Come to Collision lunch Tuesdays and Fridays! Bring friends! We focus on intimacy with God and people, vision for transformation in schools and the world around us, and give open invitations to other access points for 2021/22. If you plan to come one or both days, please consider joining our SERVE Team and text "sfccollision-serve" to (855) 550-0418.
Powerful truth is shared at lunch. Watch below!
Join a Weekly Mission Trip/Outreach
Every Thursday from 2:45 pm to 5:45 pm any SFC student is invited to serve people and share the Gospel in the neighborhood with Collision leaders alongside Gordon and other SFC students.
If you are interested in visiting, or you know you want to join us, consider being on the OUTREACH Team! Text the phrase sfccollision-outreach to the number 855-550-0418.
Scan the QR code below or click here for more details.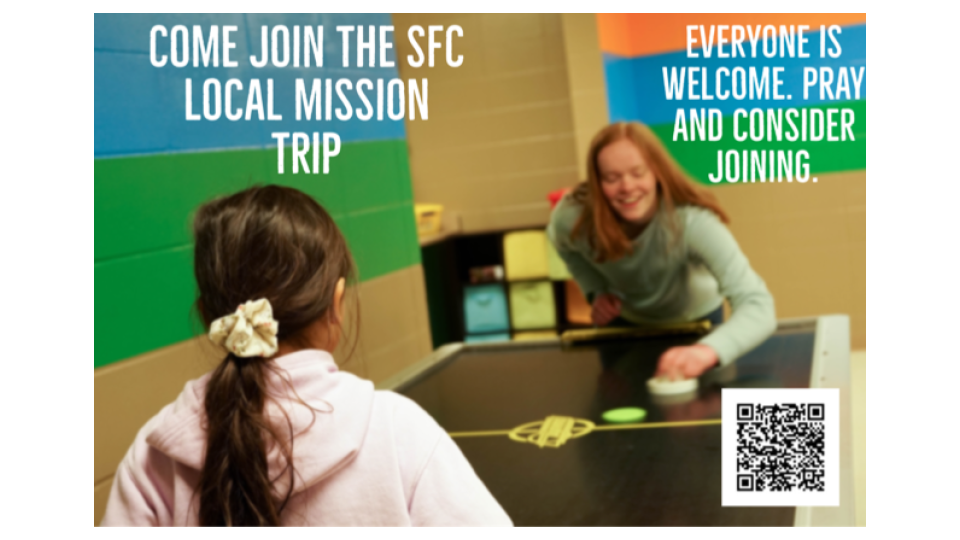 Watch and listen below to a powerful interaction between an SFC student and a child during outreach at MariCar.
Start a DMG
It's as simple as praying for three people whom God would have you invest your life in this school year via discipleship. When you know at least one person who would be interested in meeting with you, Collision would be happy to come and share a vision of what a DMG can do together! If you are interested in getting a group started, text "sfccollision-multiply" to (855) 550-0418, and then text the three names you want to do discipleship with this year.
411 Trainings
Join us every Thursday from 2:45 pm to 3:45 pm at SFC during SRB to get equipped and empowered to share the Gospel and multiply. Text "sfccollision-411" to (855) 550-0418 for more information.