We Nurture Talent
The theatre program at Sioux Falls Christian is known for its strong history of excellence and high-quality, God-glorifying dramatic productions. Each year, the school competes in the SDHSAA-sanctioned one-act-play competition in January.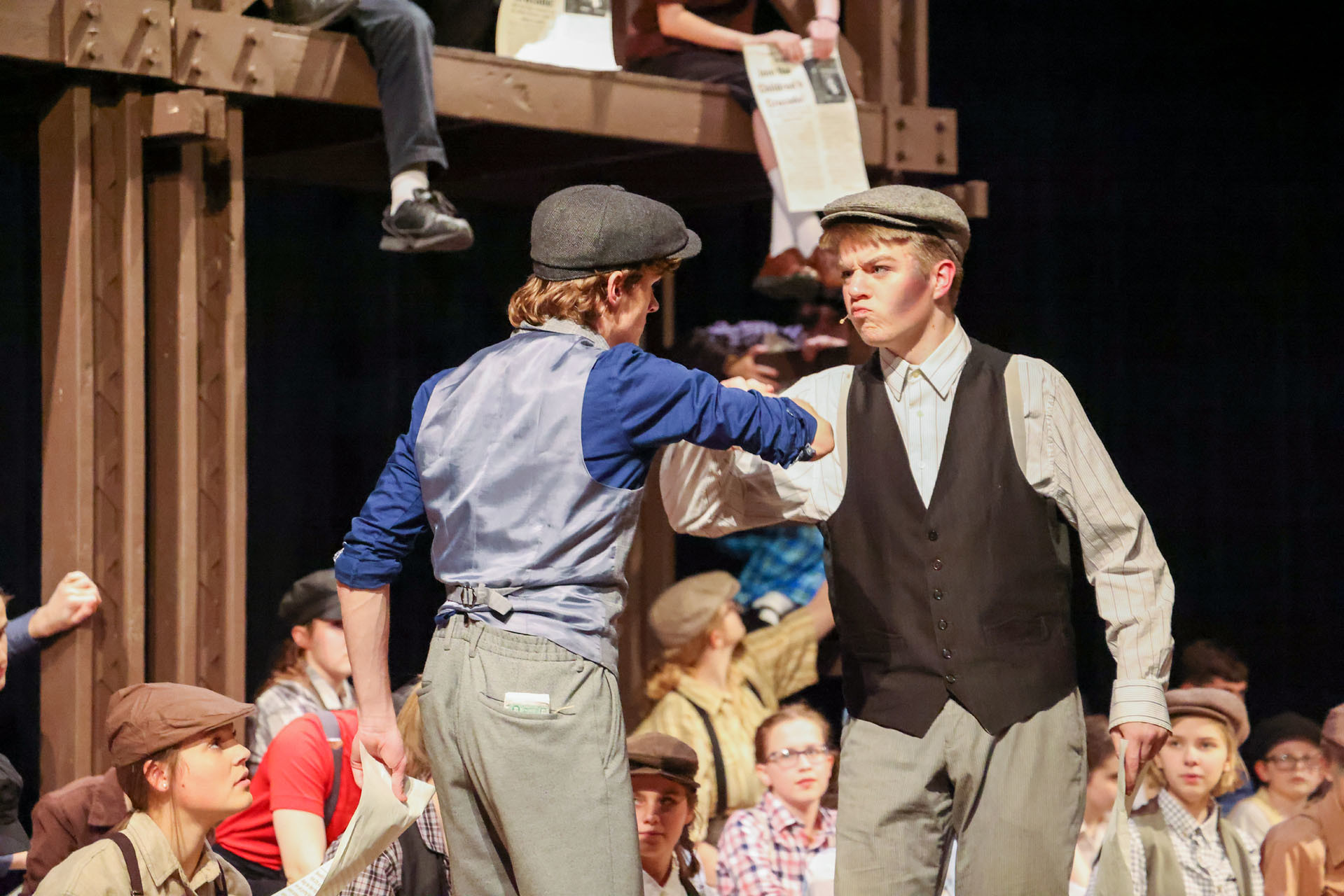 Additionally, SFC alternates between putting on a full-length play or musical each spring. This production is on a much larger scale and often includes a cast of 60-100 students. In some productions, students from middle school and elementary programs are given opportunities to participate as well.
Students of all backgrounds are encouraged to get involved and gain experience using their God-given talents in many different ways, including speaking, acting, dancing, singing, playing instruments, sewing costumes, applying stage make-up, creating props, running light and sound equipment, set design and painting, and stage production.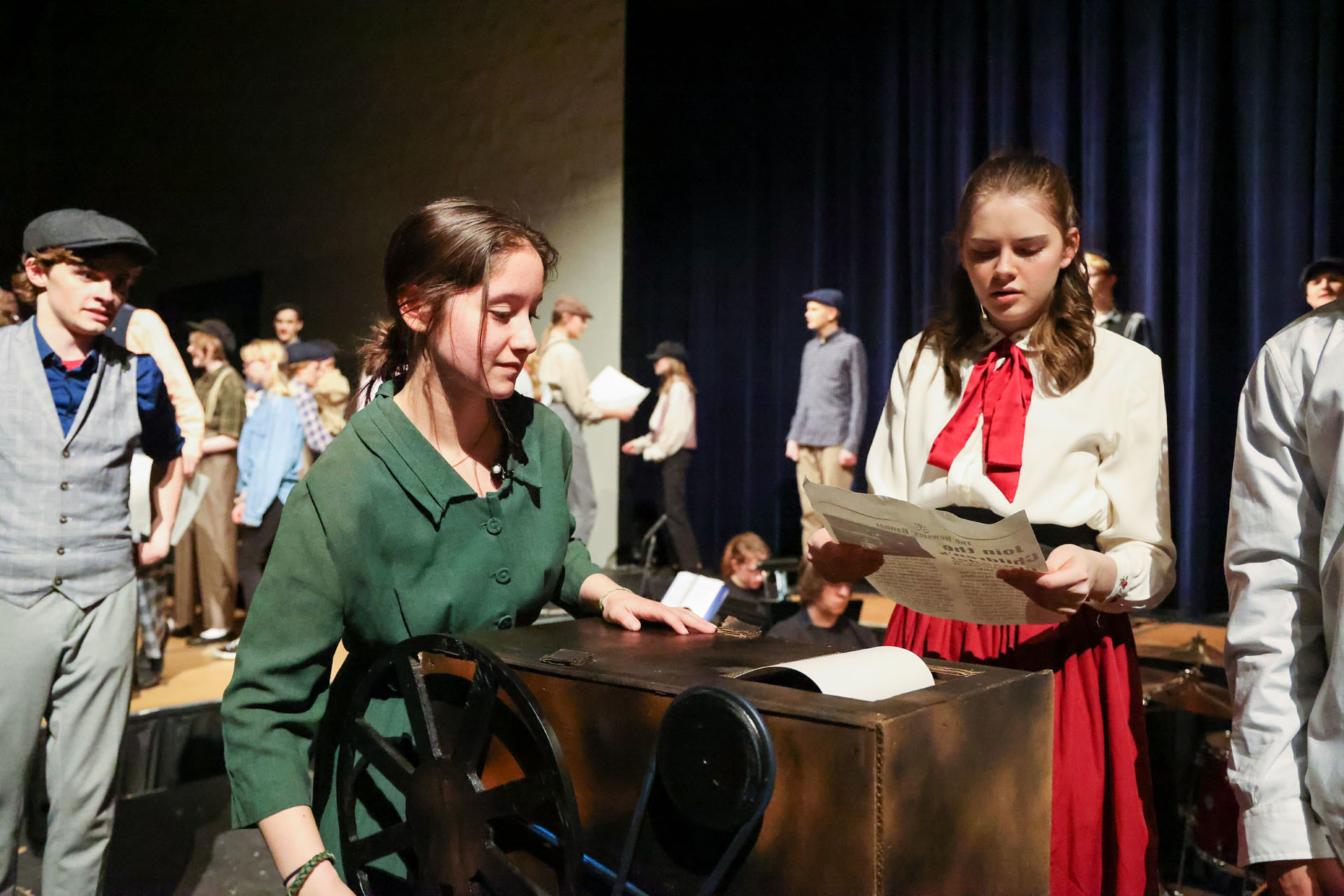 Each show is the result of the tireless work of countless individuals, taking ownership and working together for something bigger than themselves.
----------------------------------------------------------
One-Act State Superior Awards:
2022 - McBethany - Alecia Juelfs, director
2020 - The Amish Project - Jessica DeWit, director
2018 - Lettres et Cafe - Matt Groen, director
2017 - Bridal Terrorism - Jessica DeWit, director
2016 – The Yellow Boat – Jessica DeWit, director
2015 – Small Actors – Matthew Groen, director
2014 – Amish Project – Jessica De Wit, director
2011 – The Romeo and Juliet Blues – Melissa Steventon, director
2009 – This is a Test – Kendra Wilson, director
2008 – In Flander's Fields – Matt Douglas, director
2006 – The Dancers – Amanda Conrad, director
2005 – Alias Smedley Pewtree – Matt Douglas, director
2004 – Us and Them – Korynn Glood, director
2003 – The Nerd – Nicholas Leeman, director
Recent Production History:
2022 - Disney's "Newsies" - Eric Kooima, director (photo gallery)
2021 - You Can't Take it With You, - Alecia Juelfs, director
2020 - Annie (cancelled due to Covid) - Eric Kooima, director
2019 - The Complete Works of Shakespeare (abridged) revised - Eric Kooima, director
2018 - Mary Poppins - Eric Kooima, director
2017 – Diary of Anne Frank - Matt Groen, director
2016 – The Wizard of Oz – Eric Kooima, director
2015 – Pride and Prejudice – Eric Kooima, director
2014 – Disney's Sleeping Beauty KIDS – Eric Kooima, director
2013 – Sherlock Holmes – Eric Kooima, director
2012 – Fiddler on the Roof – Eric Kooima, director
2011 – The Secret Garden – Eric Kooima, director
2010 – Disney's Beauty and the Beast – Eric Kooima, director
2009 – The Jester's Test – Eric Kooima, director
Stop the Presses! – Melissa Steventon, director
2008 – The Boy Who Fell into a Book – Matt Douglas, director
2007 – South Pacific – Jane Newman, director
2006 – Hollywood Hillbillies – Amanda Conrad, director
2005 – Androcles and the Lion – Barb Elkjer, director
2004 – The Sound of Music – Jane Newman, director